Stage 19 Recap.
Chris Froome takes the most impressive individual win of his career and moves into a commanding position in the overall classification.
Expectations were high for stage 19 and boy did it deliver! As soon as the flag was dropped the racing was on which meant little room for anyone trying to get in a breakaway. The usual suspects tried but were kept on a tight leash and the gap never got much over a minute. As they hit the Colle Delle Finestre the Sky boys ominously came to the front to take over the work from Mitchelton Scott. Puccio immediately increased the watts and it was like we were watching the Team Sky of old as the unrelenting pace spat riders one by one from the peloton. With Puccio still on the front, Simon Yates began to drift and quite embarrassingly was dropped only 5km into the climb. Lopez was swinging soon after but this seemed to be an attempt to pace himself rather than actually struggling and the Sky train rumbled on. Eventually Froome was left with just Kenny Ellisonde who was showing the first signs of that TotA form we all expected. He pushed the pace hard on the gravel sector of the Colle Delle Finestre until Froome took it up and immediately got a gap. He pushed on until he took the Cima Coppi with around a 30 second gap on a chasing group of Dumoulin, Lopez, Pinot and Carapaz. On the descent Froome pushed his advantage out to 1:30 as Pinot's sketchy skills slowed the group behind.
To everyone's amazement the gap continued to grow on the lower slopes of Sestriere. Reichenbach had managed to bridge back up to the chase group and was helping Dumoulin and Pinot in the chase but Carapaz and Lopez cowardly sat on. Over the top of Sestriere the gap was at 2:30 and Froome was close to moving into the virtual pink jersey.
He again gained more time on the descent and it was clear frustrations were growing in the chase group in the direction of the South American pair who were still yet to do a turn. Another 3 minutes behind these guys the chase including Pozzovivo, Bennett, Formolo and Konrad was also suffering some miscommunication and was also losing time.
Froome hit the final climb to Jafferau with a gap of 3:33 and with the stage win a near certainty his attention turned to ensuring he would be wearing pink on tomorrows start line. He held the gap well as Carapaz and Lopez predictably tried to attack the group behind and eventually crossed the finish line after painfully negotiating the steep final 500m. Dumoulin paced his effort well, not being drawn into the games of Carapaz, Lopez and Pinot but he still ended up losing out to them in the finish. He eventually finished 3:23 down on Froome.
In terms of GC.
Perhaps the most exciting GC day in recent memory the Giro has been completely turned upside down. Froome gained 3 minutes on the chase group of Carapaz, Lopez, Dumoulin and Pinot and upwards of 8 minutes on everyone else. He therefore jumps from 4th up to 1st while Tom Dumoulin retains his second place, 40 seconds down and against all the odds Pinot moves onto the podium. The biggest losers were Pozzovivo who slumps into 6th and of course Simon Yates who completely collapsed and I'm pretty sure he's still out there riding as I write this.
Parcours.
214km from Susa to Cervinia where the riders will climb to the base of the Materhorn. Unlike previous mountains stages, tomorrows route is flat for the first 129km and should be relatively stress-free.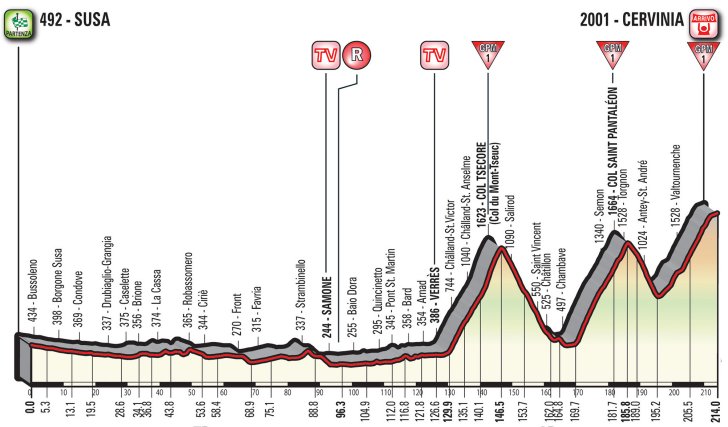 The first climb of the day is the Col Tsecore. At 7.7% for 16km it's a tough one which will set the tone for the remaining 84km. Once the riders crest with 68km to go they'll be greeted with a rapid descent before immediately climbing again. This time is's the Col de Saint-Pantaléon. It's equally lengthy at 16.5km but is very slightly easier with an average of 7.2%. It has a tough opening section but a pretty forgiving middle sector before ramping up again to the summit.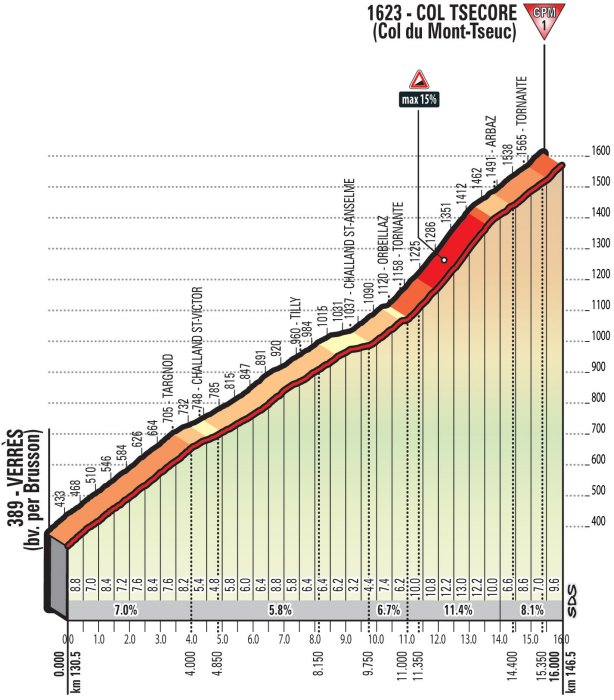 Over the Col de Saint-Pantaléon it's onto the final climb of the day up to Cervinia. Again it's a 16km climb but it's probably the easiest of the day at an average gradient of only 5.6%. This is slightly skewed by the flat final 2km but overall it should be the kind of climb to suit the more powerful riders and not the pure climbers.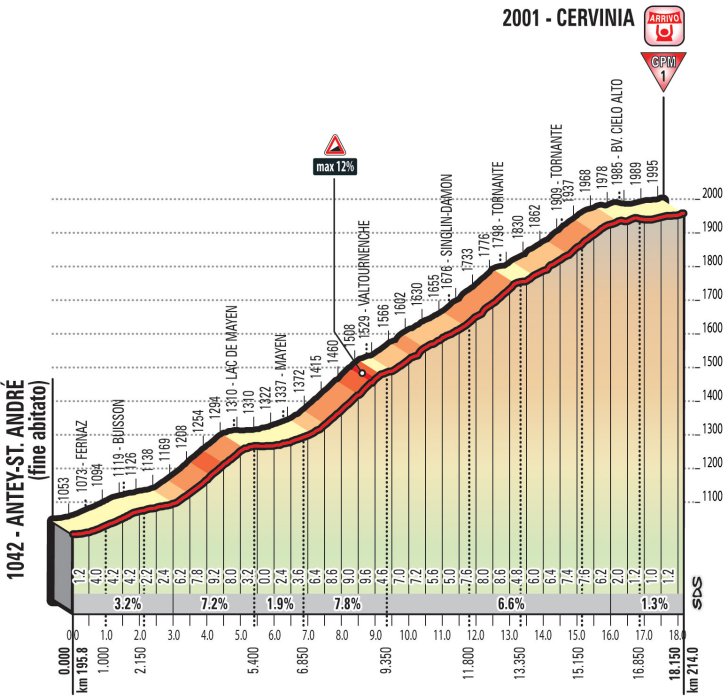 Race Strategy.
The Giro is the Giro and in true Giro style it's been completely turned on it's head with only 2 stages to go. Mitchelton Scott are now out of the running and Froome is in the driving seat. The team that now needs to attack is Team Sunweb with Tom Dumoulin only 40 seconds away from the pink jersey but will they have the strength to do so?
I think tomorrow will be another fast stage but one where the action is concentrated into the final 84km as there's little to gain from any team pushing early on. A break will go and it's success will depend on the gap it can get before the first climb up Col Tsecore. I think it's touch and go as to whether it sticks. There'll be plenty of teams who know this is their last chance to get something out of the race  and so competition to get in the break will be fierce. So fierce that it might not go for an hour by which point they will not have a huge amount of time to build a gap before the first climb.
Once they do hit the Col Tsecore Sky will look to dominate. The boys have all hit form at exactly the right moment and the likes of Wout Poels, Ellisonde and De La Cruz will look to keep the pace high to deter anyone from attacking.
I think a strong break will get clear but will ultimately be picked off one by one as Sky up the pace on the final triplet of climbs. It will be a close call but with Astana still interested in a podium place wil Lopez and Dumoulin not too far off the race lead I think it will be a GC rider that takes the win. This man will be Richard Carapaz.
Contenders.
It's another one for the GC boys but I've written plenty about them so far so I'll keep it brief and spend a bit more time on some GC hopefuls.
Richard Carapaz has had a storming Giro so far and clearly packs a strong finishing kick on long climbs. He surprised everyone by making the 2nd group today and did absolutely no work meaning there's a chance he's slightly fresher than the rest. Either way I think the climbs suit him as he's tended to get results on the slightly less punishing gradients where he can kick away in the final few kilometres.
Similarly Miguel Angel Lopez did little to no work in the chase group today and despite yoyoing on the Colle Delle Finestre looked very strong all day long. He seemed to be pacing himself and tomorrow's slightly less testing gradients will suit him well. He's just off the podium and has a great chance to pick Pinot off meaning I'm expecting him to attack. His Astana squad should be there in numbers in the final and this will be of great benefit.
Equally Thibaut Pinot has a podium place to defend. He went through somewhat of a resurgence today, seemingly out of it in the TT him and his teammate Sebastian Reichenbach put in excellent rides to pull back tonnes of time on Pozzovivo. If he can remain lively he's got enough time to be allowed some freedom off the front and it will be left up to Lopez alone to chase.
Can Chris Froome pull off the double? I doubt it. At this point he'll just want to defend his lead and keep a close eye on Dumoulin. His Sky train will look to control the field rather than to decimate it and I think this will mean we see him finish high up but not on the top spot.
In contrast, Tom Dumoulin and his Sunweb team are going to have to approach this stage aggressively. 40 seconds is probably small enough to leave an attack until the final climb but the question remains as to whether he can actually drop Froome? I'm thinking no but we'll see. You just can't rule anything out in this Giro.
Making the break will be incredibly tough tomorrow and will require the usual combination of strength and luck. Robert Gesink has been quiet so far but was looking stronger today and didn't actually finish too far down. Tomorrow would suit his climbing ability well and I think he'll have had his eyes on it. Similarly Ben Hermans finished strongly today and unlike Gesink he's been a mainstay in a number of breakaway's so far this Giro meaning he's got great legs. This could well be the day he manages to pull it off. What about the Mitchelton boys? Yates is completely out of the running in the GC now so they may be given some freedom. The bookies seem to think Mikel Nieve is their man and he certainly has pedigree on stages like this but I think Jack Haig also has a great chance as he's looked the strongest all race. My worry is that he's just as cooked as Yates but we'll see. After today's stage there are also lots of guys on GC who have time to play with and could well be given some room in a break. Think the likes of Formolo, Geniez and Goncalves. 
Tips.
Likely another no bet day as it really is a bit of a lottery this far into a Grand Tour. The racing has been incredibly tough and who's to say how the guys will have come out of a day like today. I'm gonna go with another couple of fun ones which I think holds some value. Steer clear if you don't like the riskier ones.
Outrights –
1pt on Richard Carapaz e/w at 15s (bet365)
Match Ups –
2pts on Chris Froome tb Tom Dumoulin and Richard Carapaz tb Miguel Angel Lopez at 4.95 (bet365)
I'll add a couple of break hopefuls if the odds move in our favour.
Thanks for reading and make sure you follow me over on Twitter (@eachwayvelo) for any in-play additions.
I'll leave you with this…